Booklover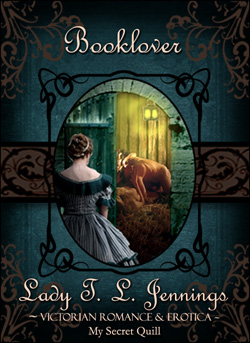 Summary:
An unwelcome marriage proposal to secure the future for young Elizabeth and an accident in the old library leads to unexpected situations, as Elizabeth wants to learn more about intimate liaisons by secretively looking at the erotic session of an amorous couple.



Product details:

Format: ebook
Category: Victorian romance and erotica
Written: 2011
Length: 5 pages, 2700 words
File size: 300KB
Publisher: Independently published by
My Secret Quill



First 100 words:

Elizabeth had travelled the world. At the tender age of eighteen she had already been to France many times, roamed Italy, and even visited Egypt and the exotic West Indies. She had travelled by horse, by train and by modern aircraft machines. She had seen strange places and met wonderful people, some which even had led to romantic liaisons. Indeed, she had danced with Mr Darcy, flirted with Mr Rochester and even had had a love affair with Mr George Knightley himself one summer.
All this, without even leaving the library at the family estate, the Abbey in Somerset.

Tags: Voyeurism, marriage proposal, arousal, supernatural objects, library.


(Kindle UK Shop)




(Kindle US Shop)