"Something wicked this way comes..."
-The Halloween Book Promotion is here!

I'm currently running a cross-promotion together with a couple of other fellow authors.
Between the 20th-23rd of October romance and erotica book titles will be on sale for only $0.99!

Happy Halloween and Enjoy Your Reading!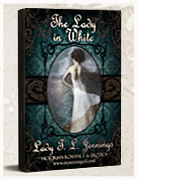 The Lady in White
by Lady T. L. Jennings (FREE)

During a stormy night, on his way from Birmingham to Swansea, Mr Ewan Morris' horse carriage appears to have run over a young woman dressed in white on the road. Ewan decides to make sure that she is unhurt and follows after her...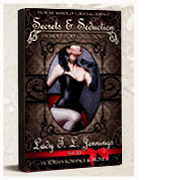 Secrets and Seduction ~ A Victorian Romance and Erotic Short Story Collection. Vol. III
by Lady T. L. Jennings ($0.99)

Young Miss Rosalie Dawson is troubled about her future happiness; she is to marry Lord Peter Whittingham, an extremely handsome gentleman with both connections and money. There is only one problem...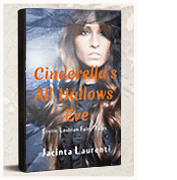 Cinderella's All Hallows' Eve: Erotic Lesbian Fairy Tales
by Jacinta Laurenti (FREE)
Villagers speak in hushed voices of ghostly beings wandering the forest on All Hallows' Eve. Princess Ellia ignores the tales and goes foraging for mushrooms, but she trips and sprains her ankle. And she is not alone...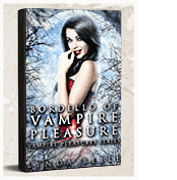 Bordello of Vampire Pleasure
by Lynda Belle (FREE)

He's been screwed by his ex-wife. Now, his friends are treating him to a brothel hook up to help him forget.
But vampires? Really?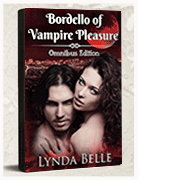 Bordello of Vampire Pleasure: Omnibus Edition
by Lynda Belle ($0.99)

The vampire bordello was just outside of Vegas, and a short drive from her hotel. Could the perfect vampire help her forget her latest man mistake?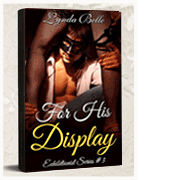 For His Display: Exhibitionist Encounters Series #3
by Lynda Belle (New release $0.99)

Angela has been thinking about him since they exchanged cards at the airport bar. Will she call him? He would help distract her from her recent break up. Dialing the number, she's hoping that maybe a little male companionship will at least lead to something more exciting than being alone.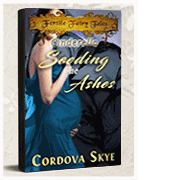 Seeding the Ashes: A Fertile Retelling of Cinderella
by Cordova Skye ($0.99)
Once upon a time, a young woman wished desperately to go to a ball. Ella's life is in ruins: her father is dead, her stepmother treats her like a slave, and her prospects for escape are rapidly dwindling...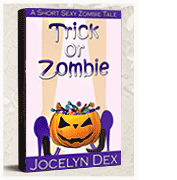 Trick or Zombie (Sexy Zombie Tales)
by Jocelyn Dex ($0.99)
When Trista takes her zombie trick-or-treating, will he make a snack of one of the kids?
Or will he resist temptation and snack on something better when they get home?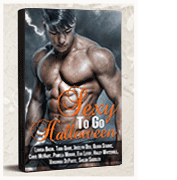 Sexy to Go Halloween 2 Box Set
by Tara Quan and other authors ($0.99)
On a day known for honoring the souls of departed loved ones, this couple heats up the costuming before the fiesta. Explore when Dia De Los Muertos transforms into Dia Del Amor.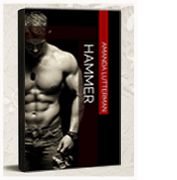 Hammer (Project Genesis Book 1)
by Amanda Lutterman (FREE)
Buried deep beneath mounds of red tape, agencies and Government procedure, the US Military houses secret facilities and programs that produce countless advancements and futuristic operations.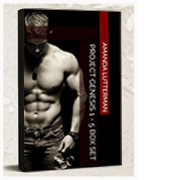 Project Genesis 1 - 5 Box Set
by Amanda Lutterman ($0.99)
Jace was heading towards his hotel after a long hard day of work when suddenly he's kidnapped. Forced into being a lab rat for a sick scientist...Jace loses all hope of rescue until a sudden turn of evens gives him a reason to survive his hellish ordeal.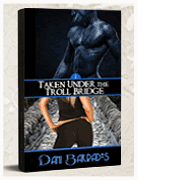 Taken Under the Troll Bridge (Trollrotica Book 1)
by Dani Barbados ($0.99)
When Tessa's handsome, sexy boss asks her for a favor she's hoping for something a little more up-close and hands-on... not virtual exile to mountain cabin for a paid vacation far from the city.



Happy Halloween and enjoy your reading...





New book release by Lady T. L. Jennings!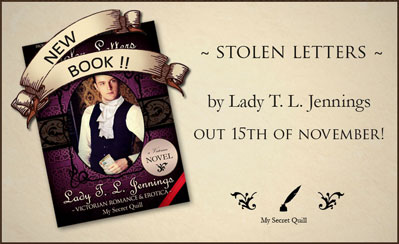 Tied by his promise, torn by his heart's desire.

Mr Frederick Whyatt is returning to London to attend his sister, Emma's wedding. However, before his family leave Devon, Frederick is forced to promise that he will behave like a proper gentleman–if he does not, his cold-hearted father threatens to cancel the wedding and disinherit Frederick.

But will Frederick be able to keep his promise?

Both Vincent D'amonte, a flamboyant young gentleman with whom Fredrick is in love, and Micah Grant, an exceedingly pretty prostitute, are determined to make him forget his decency and promise…

'Stolen Letters' is the second book in the Dangerous Letters Trilogy:

~ Blackmail ~
a Gay Victorian Romance Novella (Book 1)

~ Stolen Letters ~
a Gay Victorian Romance Novel (Book 2)

~ The Secret Diary ~
a Gay Victorian Romance Novel (Book 3)
Coming in the beginning of 2018