A Theif in the Night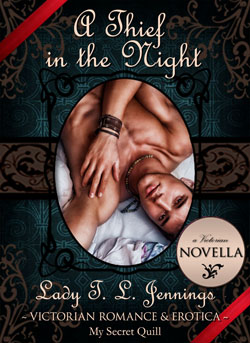 Summary:
The famous carnival in Venice is about to begin…

However, the master thief Emilio De Luca has no intention to join in the lavish celebrations. –Instead, he secretly plans to steal some of the most famous classic renaissance paintings in the world.

Nothing can go wrong, but then Emilio accidently stumbles upon Quinn Darrell, a quiet Englishman from London, who happens to be working with art restoration late at night at the Vercelli's art gallery.

…And Quinn will do anything to stop Emilio from stealing the paintings.



Product details:

Format: ebook
Category: Gay Victorian Romance and Erotica
Written: 2016
Length: 32pages, 18o00 words
File size: 300KB
Publisher: Independently published by
My Secret Quill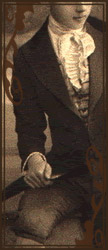 First 100 words:

Venice, 1846

Emilio De Luca strolled casually past the magnificent century-old Saint Mark's Basilica cathedral with its dome-shaped roof and marble angel statues with golden wings at the Piazza San Marco just as the bell tower struck eleven at night.

To any passing observer, Emilio looked like any other fairly rich and elegantly dressed Italian dandy on his way home from an evening appointment or perhaps a late visit to the theatres.

Despite the late time of the evening, there were quite a lot of people outside who braved the chilly and rather foggy late February weather.

The Venetian carnival would start the following day...

Tags: Venice, theft, gay romance, stolen paintings, first time.


(Kindle UK Shop)




(Kindle US Shop)



About this story

I had the wonderful opportunity to visit Venice last November.

The first evening I wandered along the canals and followed the narrow streets and winding alleys (while getting hopelessly lost several times), and I knew instantly that I wanted to write a Victorian story set in Venice.

Emilio De Luca presented himself almost immediately and after a while, Quinn politely introduced himself too (he is a little bit reserved, after all).

I did quite a lot of research behind this story. I used Google Earth to figure out where the characters were going as they chased each other through Venice. I also researched classic art and art restoration. I'll forever be in debt to "The Process of Art Restoration" by Full Circle Studios, which taught me a lot about the passion and dedicated work of art restoration.

Several of the paintings in this story exist in real life, although I took the liberty to invent The Feast of Bacchus by Sandro Botticelli. Finally, any Italian spelling mistakes are mine and mine alone (and should–of course!–not be blamed on the Vercelli's guards, Emilio or Quinn)…