Captured by Him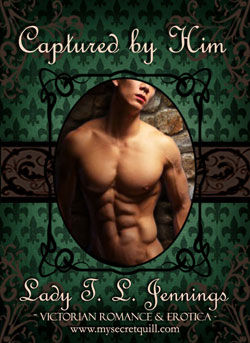 Summary:
Milton Huntington, the oldest son of Duke Huntington, should consider himself a happy man since he just got his marriage proposal to Miss Constance Bradwardine accepted, however he is not. To make things worse, his carriage is stopped by a gang of highwaymen on his way home and from there things are rapidly turning worse.



Product details:

Product details:
Category: Gay Victorian Romance and Erotica
Format: Kindle eBook
Written and published: 2012
Length: Bedtime novelette (~12500 words)
Publisher: My Secret Quill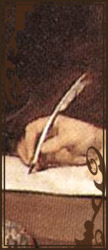 First 100 words:

It truly was one of the worst days imaginable for poor, young Mr Milton Huntington. The day had started rather badly and was rapidly degrading; however, the worst was unfortunately yet to come.
Indeed, one would assume that leaving the Bradwardine's magnificent estate with an accepted marriage proposal from their youngest daughter, who was both pretty and agreeable, would have made any noble gentleman the happiest man in the British Empire.
Regrettably, I am sorry to say that this was not the case for poor Milton Huntington.

M/M romance, Marriage proposal, highway robbery, semi-rough sex, anal intercourse.


(Kindle UK Shop)




(Kindle US Shop)

About this story

The short story "Captured by Him" was influenced by the general romantic concept of a noble-born person falling for a villain or a rogue. The theme is of course not that uncommon in the literature, but I wanted to write my own version, and before I knew it Milton and Badger turned up on my doorstep and demanded (very politely) that I wrote about them. I accepted, of course.
I did some background research for this story, including the legend about Robin Hood and highwaymen and robbery during the 19th century in England. (I have taken the liberty to extend the period of highwaymen slightly, since apparently the last highwaymen operated around 1830.) I also would like to thank The Museum of the City of New York for the interesting film about the development of New York, including during the 19th century.