Corsets and Cravings
- a short story collection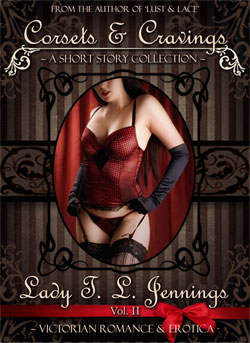 Summary:

"Corsets and Cravings" is a short story collection of five newly written Victorian romantic and erotic short stories. Including the following short stories:
The Pianoforte
Sinful Dealings
The Castle in the Mist
Secret Letters
Under the Full Moon



Product details:

Format: ebook
Category: Victorian romance and erotica
Written: 2011
Length: 43 pages, 24500 words
File size: 300KB
Publisher: Independently published by
My Secret Quill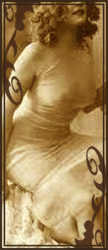 Description


Corsets and Cravings ~ A Victorian Romance and Erotic Short Story Collection. Vol. II
.


Tags: Victorian erotica, romance, gothic, romantic liaisons, passion, bondage, bisexual, threesome (MMF), semi-rough lovemaking scenes, and gay romance.

~ Paperback ~




(Kindle UK Shop)




(Kindle US Shop)





~ Ebook ~




(Kindle UK Shop)




(Kindle US Shop)




Extract from the stories:

"Reader, he kissed me!
At first, tender and careful. Tentatively, perhaps to see if I would resist him or not. However, I kissed him back, full of passion. An entire summer of suppressed desire and longing rose towards the surface. I buried my hands in his hair and he cupped my face as the kiss continued and grew into forbidden emotions, which irreversibly whirled through my body. Not caring about my completely indecent behaviour or the fact that we were outdoors I let my hands slip in under his shirt and touch him, which made him moan softly and kiss me deeper."

- From the short story "The Pianoforte"
"What are you doing?" Timothy asked in a strangled voice, as they finally removed his trousers and the rest of his clothes. He could not see what they were doing since he was blindfolded, but that only increased the anticipation. He should feel vulnerable, blindfolded and with tied arms behind his back, however instead it strangely made him feel both safe and extremely excited at the same time. No one replied to his question and he moaned quietly in expectation.

- From the short story "Sinful Dealings"
"He stood petrified as he felt her lips against his, her naked body pressed against his. For a moment rage, sorrow, and passion fought inside of him before passion claimed victory. He pulled her closer and kissed her back, deeply and with no regrets.
Their lovemaking was neither slow, nor gentle, but an act of burning need and desire. Henry embraced her and she could feel his craving and hardness against her, which had a most arousing effect. He cradled her naked bottom and kissed her deeply, exploring her with his tongue. She smelled and tasted like the woods, wild and untamed."

- From the short story "Under the Full Moon"