Forbidden Feelings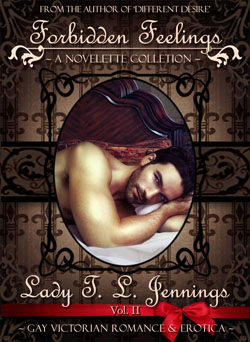 Summary:
"Forbidden Feeling" is a collection of four newly written Victorian gay romantic and erotic novelette stories:

The Illusionist's Assistant
My Valentine
Broken Hearts
An Extraordinary Evening



Product details:

Format: ebook
Category: Gay Victorian Romance and Erotica
Written and published: 2015
Length: Four bedtime novelette (~37000 words together, 68 printed pages)
Publisher: Independently published by
My Secret Quill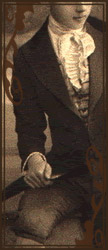 Description:

Forbidden Feelings ~ a Gay Victorian Romance and Erotic Novelette Collection. Vol. II.

Please note: These stories contains erotic scenes including the practise of gay sex and is intended for adult readers only. The stories also include love and romance between men. If you are offended by this, please get over it or read something else...


~ Paperback ~


(Kindle UK Shop)




(Kindle US Shop)

~ Ebook ~


(Kindle UK Shop)




(Kindle US Shop)

Extracts from the stories:

"He teased me, tempted me, and tormented me. I felt shivers form and felt both hot and cold at the same time as my desire grew. I tried to continue to stand still, but all I wanted was to turn around and kiss him and guide his hand to my waiting erection. It would take almost nothing for me to come at this moment.
"Please," I whispered, not even knowing myself if it was a plea for him to stop or to continue to tantalize me.
"You are behaving very well," he whispered in my ear and gently pressed himself against me."
- From the short story "Seduced by a Dandy"

"Afterwards, they could never agree about who had made that first, initial move. Perhaps it was because it all happened at the same time?
Milton raised his tied hands and cupped the other man's chin between his palms and roughly kissed him at the same time that Badger wrapped his strong arms around him and pulled him closer.
Badger answered his kiss hungrily and rolled over on his back so that Milton was straddling him, while Milton continued to kiss him thoroughly, ignoring the harsh stubble that grazed his cheeks."
- From the short story "Captured by Him"

"Winston cupped Oliver's chin with both hands and kissed him again, deeply and thoroughly, while he started to move his hips repeatedly and without a trace of modesty against him. Oliver gasped involuntarily when he felt their erections rub against each other with only a thin couple of layers of clothes in between them. It was both highly exciting and a little bit frustrating, and it rapidly brought Oliver's desire to an entirely new level of unfulfilled passion."
- From the short story "Temptation"