Lost in the Labyrinth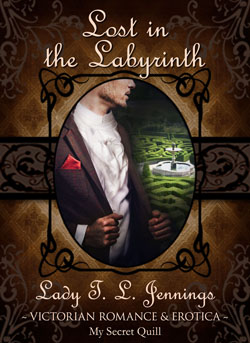 Summary:
Three sisters, two gentlemen, and one love story.

Mr Daniel Garrett leads a peaceful and simple life in a small village close to the Peak District where afternoon tea is always served at three o'clock.

However, when Ashley Thornhill, a charming gentleman and the most sought-after bachelor in the county, inherits Thornhill Manor, Daniel's uncomplicated life is suddenly about to become a little bit more… complicated.

During a summer picnic when Daniel is forced to chaperone his three lively sisters, Ashley boldly challenges him to solve the old and over-grown Celtic hedge maze on the estate. But the old, neglected labyrinth is more wild and dangerous than anyone may expect…



Product details:

Format: ebook
Category: Gay Victorian Romance and Erotica
Written: 2016
Length: 32pages, 13500 words
File size: 300KB
Publisher: Independently published by
My Secret Quill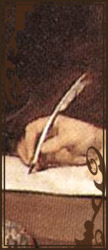 First 100 words:

For as long as I could remember, afternoon tea at our house, Rosehill farm–a rustic timbered and white-plastered old Tudor house with thick, exposed wooden frames and a thatched roof that was prone to leaking–had always been served exactly at three o'clock.

Teatime had always been a busy and scrumptious affair in my family. Afternoon tea was a combined opportunity to drink tea and have a couple of cut sandwiches or delicious tarts while taking a break from work.

It was also a time for the family to talk, share gossip, and to sort out any family business–and sometimes bicker with each other–while at the same time read the morning newspaper and go through the daily post...

Tags: M/M romance, afternoon tea, supressed desire, mysterious labyrinth, Gay romance



(Kindle UK Shop)




(Kindle US Shop)



About this story

I wrote this novelette because I have always wondered what it would be like if Jane Austen secretly wrote gay fiction. (And maybe she did, the manuscripts just haven't been found yet!)

"Lost in the Labyrinth" is a story that is heavily influenced by Austen as I am sure that most readers may have noticed. (I blame it on my muse, she has been re-reading my battled copy of Pride and Prejudices once again.)

As a long-time afternoon tea addict, I spent quite some time researching Victorian tea, type of cakes, and delicious tarts. I also took the opportunity to sample my way through quite a few afternoon teas here in Oxford.)

I did quite a lot of research regarding the Victorians urge to improve their estates, Georgian architecture hallmarks, and the tradition of hedge mazes and Celtic pagan labyrinths for this story, which I hope that you enjoyed reading about.