My Valentine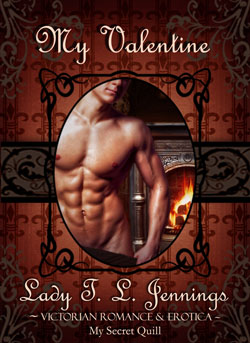 Summary:
Two men and one impossible love story.

Branded a social outcast and shunned by the Victorian society, Lord Richard Archerton leads a solitary life at his large estate, just outside Two Bridges village in the heart of Devon.

No one could be more unlike him than Valentine, a prisoner sentenced to the gallows and who just have managed to make his lucky escape. He is running blindly through the mist and dangerous marshes of Dartmoor, with his pursuers not far behind.



Product details:

Format: ebook
Category: Victorian gay romance and erotica
Written: 2014
Length: 36 pages, 10500 words
File size: 300KB
Publisher: Independently published by
My Secret Quill



First 100 words:

"He was running as fast as he could.

At first he fled in wild panic. His instincts screamed at him to get away, as far and as fast as possible. And now he had no idea of how long or in which direction he had been running.

His breathing was uneven and so laboured that his lungs hurt. The cold air burned in his throat. He had to stop for just a moment to catch his breath, or he was afraid that he would faint.

In front of him the seemingly endless Dartmoor marshes spread out."

Tags: Escaped prisoner, Victorian mansion, Warnings, Dartmoor, M/M romance.


(Kindle UK Shop)




(Kindle US Shop)