Nights in Vienna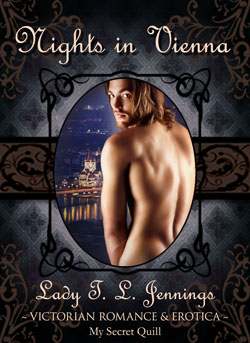 Summary:
An unlikely love story between an English violinist on tour and a very reserved gentleman.

Ever since the opening night of Don Giovanni at Vienna Court Opera, someone is sending Hugo Farrell a dozen red roses anonymously after every performance, which leads to jealousy and speculative gossip among the rest of the orchestra. Hugo and his only friend Christian try to solve the mystery, but no one seems to know who is sending the roses or why.

However, Hugo never notices the tall and elegantly dressed gentleman who is watching him quietly from his private opera box as Hugo plays the violin.

And then one evening, the worst thing imaginable happens and everything changes…



Product details:

Format: ebook
Category: Gay Victorian Romance and Erotica
Written: 2017
Length: 32pages, 13400 words
File size: 300KB
Publisher: Independently published by
My Secret Quill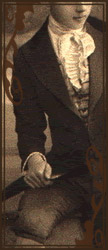 First 100 words:

"Are you going down to the stage already?" Christian asked Hugo as he entered the small room for violinists on tour at the Vienna Court Opera. "It is at least a whole hour before the orchestra needs to be assembled."

Christian was five-and-twenty years old and a couple of years older than Hugo. They had been best friends ever since they had studied together at the Royal Academy of Music in London, and this was the first time they were on tour throughout Europe.

Tags:Keywords: Gay romance, Vienna, opera, Stradivarius violin, m/m erotica.


(Kindle UK Shop)




(Kindle US Shop)



About this story

A couple of years ago I visited Vienna, the lovely capital of Austria and Vienna State Opera (Wiener Staatsoper), which was formerly known as Vienna Court Opera, but renamed in 1920 when Austria became a republic.

Vienna is such a lovely and romantic city, and I knew almost from the beginning that I wanted to write a story set at the Vienna State Opera. Luckily, I have two friends (who shall remain anonymous) who showed me around the opera including backstage, the private balcony boxes, and even the opera roof (!).

I did quite a lot of research for this story, including facts about what makes Stradivarius violins so special and the history behind Vienna State Opera.

I have taken the liberty to let Hugo Farrell be a member of the London Symphony Orchestra, which actually was not founded until 1904.

In addition, since I only speak very little German, any language mistakes or misspellings should not be blamed on Hugo or Theodore, but on me…