Seduced by a Dandy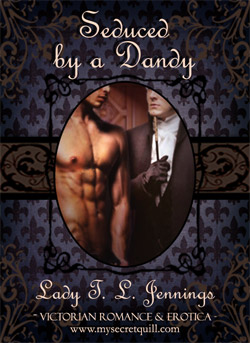 Summary:
Nathaniel Wyndham is instantly attracted to the handsome stranger, dressed like a dandy, and who was standing in a corner at the yearly Autumn Ball in Corby. Who is he? And why was he watching him so intently?



Product details:

Format: ebook
Category: Victorian gay romance and erotica
Written: 2012
Length: 14 pages, 8700 words
File size: 300KB
Publisher: Independently published by
My Secret Quill



First 100 words:

"I felt his eyes upon me before I even saw him. I was waiting by the refreshment table for one of the servants, dressed in perfectly starched livery, to refill my glass of punch.

We were at the Lord and Lady Powlett-Saville Annual Ball, a yearly tradition, which took place every autumn. My father was an old friend of Lord Powlett-Saville and we had been invited to stay over the night, as had many of the other guests.

In fact, the large estate, which held more than 140 rooms, was rather packed and at eight o'clock in the evening there was an excited buzz in the air..."

Tags: Autumn ball, dancing, temptation, M/M, sensual penetration.


(Kindle UK Shop)




(Kindle US Shop)