The Mystery of the
Black Widow

Summary:
"Do you believe in ghosts?"

Cedric Davidson, a young solicitor from London, does not believe in neither ghosts nor ghouls and goblins. However, both his strong conviction and moral principles are to be severely tested when he is sent to Lydford Hall to sort out the legal documents after the owner's sudden mysterious death.

Lydford Hall is an estate located in the middle of the most desolate part of Dartmoor and it is said to be haunted by the Black Widow. There he meets Christopher Morgan, the gamekeeper, to whom he is instantly and dangerously attracted to.

And suddenly nothing is what it seems to be…




Product details:

Format: ebook
Category: Gay Victorian Romance and Erotica
Written: 2016
Length: 88 pages, 30o00 words
File size: 300KB
Publisher: Independently published by
My Secret Quill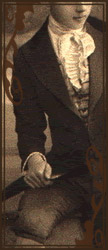 First 100 words:

"The senior solicitor's large corner office was elegant and modern with dark walnut bookcases trailing along the Paris-green painted walls. Although the office was located on the fourth floor and had a stunningly impressive view of the Serpentine lake and the bare November trees of Hyde Park, I could still hear the noise from steel-clad hooves and the rattling of horse carriages and the occasional heavier omnibus from the busy streets in the Knightsbridge district in the heart of London.

"Do you believe in ghosts, Mr Davidson?" Mr Powell asked me without looking up as he continued to sort through a thick pile of document folders behind his wide mahogany Chippendale writing desk.

Tags: Gothic mystery, Dartmoor, gay romance, haunted mansion, desire.


(Kindle UK Shop)




(Kindle US Shop)



About this story

I wrote "The Mystery of the Black Widow" since I am very fond of Victorian Gothic novels and I wanted to write a ghost and mystery story, set in Dartmoor.

While Lydford Hall and the Crown's Inn do not exist in real life, several other places (and ghosts!) do, including Warren's Inn, Kitty Jay's grave, and the powder mill at Cherrybrook Farm.

Last summer I visited Postbridge, Two Bridges, and Tavistock and I am in debt to the Legendary Dartmoor website (www.legendarydartmoor.co.uk). Furthermore, I can recommend the booklet "Haunted Dartmoor" by Margaret Caine and Alan Gorton for those who would like to read more about ghosts and legends at Dartmoor.

As always when it comes to my stories, I did quite a lot of different research (which is a perfect valid excuse to google Victorian gowns and desserts). I have changed a couple of details regarding the inheritance laws during the 19th century, but to compensate, I did quite a lot of extensive reading regarding Victorian mourning traditions, various local ghost stories, and the behaviour of crows.