The Secret Diary
~ Book#3 in the Dangerous Letters Trilogy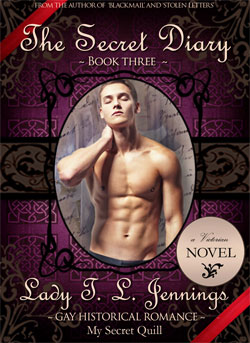 Summary:
How far would you go to keep a secret?

Young Mr Frederick Whyatt is joining his family to spend the Christmas season in London. His strict father knows about his sinful preference for gentlemen and threatens to disinherit him if he misbehaves.

However, Frederick sneaks out one late night together with Vincent D'amonte, a flamboyant rake, to search for Micah, who has disappeared.

But Frederick gets caught–and one little white lie swiftly leads to disastrous consequences.

Against his will, Frederick is drawn into a complicated web of lies and deceit, and suddenly everything is at stake…



Product details:

Format: ebook
Category: Gay Victorian Historical Romance
Written: 2018
Length: 175 pages, 65,500 words
File size: 1400KB
Publisher: Independently published by
My Secret Quill


About this novel

I wrote 'Blackmail' back in 2012. It was my first novella and the first longer story that I had ever finished (a staggering 18,000 words).

Over the years I have written other stories and novellas, but Frederick, Vincent, and Micah kept whispering to me, at the back of my head, 'When are you going to finish our story?'

And now, almost six years later and 148,000 words later, I have. (I will admit I cried a little towards the end of this book…)

As always, I tend to do a lot of research for my books, and for this novel I researched everything from mothballs, Victorian fashion, architecture, and Hellfire Clubs. In addition, I also spent an afternoon stalking around Regent's Park and Primrose Hill with my camera and notebook.

This novel is inspired by various 19th century authors such as Oscar Wilde and Jane Austen, as well as a range of historical TV and film productions. The BBC production of Downton Abbey sparked the first idea to "Blackmail" with the gorgeous footman Thomas and his lover. 'The Secret Diary' was written in longhand in three separate journals with a fountain pen.

As in the previous books, any French spelling mistakes are mine (and mine alone) and should not be blamed on Vincent, Micah, or any other of the characters in the book.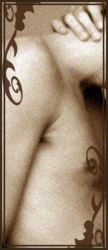 First 100 words:

I slowly leafed through the pile of vellum pages and tried to sort them in order. Some of the yellowish pages were scorch by fire, with blackened edges that still smelled of burnt paper and left sooty marks on my fingers. Other pages from my poor old leather-bound moleskin diary were ripped and violently torn in half.

In vain, I tried avoid remembering the night when my diary had been destroyed, because the memories still hurt.

The vellum pages were filled from top to bottom with my neat and rather cramped longhand writing; some of the diary entries had been written in haste.


Tags: Gay romance, secret diary, decadent masquerade, Victorian London, MMM.)
~ Ebook ~


(Kindle UK Shop)




(Kindle US Shop)


~ OTHER BOOKS ~
Blackmail
~ Book#1 in the Dangerous Letters Trilogy


Surely young Mr Frederick Whyatt could never had imagined that he would manage to get himself all tangled up with a flamboyant rake and a pretty prostitute during his first trip to London?
Curious to read more?

Stolen Letters
~ Book#2 in the Dangerous Letters Trilogy


Mr Frederick Whyatt is returning to London to attend his sister, Emma's wedding. However, before his family leave Devon, Frederick is forced to promise that he will behave like a proper gentleman–if he does not, his cold-hearted father threatens to cancel the wedding and disinherit Frederick.
Tempted to continue?