Author of the Month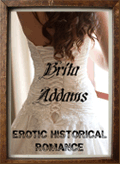 My Secret Quill is pround to present this months author:
Brita Addams, author of The Sapphire Club series, Romeo Club series, Love Immortal, and other Regency stories.

About Brita Addams
I'm Brita Addams and I write (mostly) historical Regency romances, both sensual and erotic. In 2010, my debut book, Serenity's Dream, the first in the Sapphire Club series, was nominated as Book of the Year at Love Romance Café.
I've also written contemporary romances and pure erotica. My erotica m/m short, Romeo Club #1: Surprises, was nominated as Best Erotica Book in 2011 at Love Romances Cafe.
Over time, I suppose I'll write in other genres, but now I'm happy writing both het and gay fiction, historicals and some contemporaries. I write because I have to write, it's part of who I am. I spent many years putting off serious writing and now I'm in completely. I write everyday of the week, and have had 14 books published.
I live in Southern Louisiana, about two and a half hours from New Orleans. I live with my husband and youngest daughter and the house is run quite efficiently cat, Stormee and our puppy, Fiona.

Questions

1.) Why did you start writing Regency erotica and romance stories?
Just a slight correction. I don't write Regency erotica, but erotic romance. For me, there is a great difference. I write about romance and the erotic aspects of my characters. However, the story is the main focus of everything I write.
Erotica, in my estimation, focuses more on the sex and much less on the story. That's my thought at any rate.
Now, I started writing Regency romance because of my love of history and for historical romance. The Regency period was unique in that it lasted only from 1811 to 1820 and was a time of strict social mores on one hand while the Prince Regent himself was a debauched man. It seems quite a paradox.
The Regency has a romance about it like no other period I've read. I love creating characters, subject to the rules of their time, and yet, have them act out on their instincts. The formality of the time and human nature combine to bring about interesting stories.
2.) Are you a dog or cat person?
I have a very old, cranky orange tabby named Stormee and a puppy named Fiona, so you can put me down for both, as long as they are those two. Fiona is a Maltipoo, adorable and very loving. I've never had a four-legged child like her. Stormee spends his day trying to avoid Fiona and it keeps us quite entertained.
3.) What is the first story you ever wrote?
I presume you don't mean the story I wrote many years ago, while still in school. ? The first story I wrote in the romance genre was the story that has just been released, Demands of the Heart. I wrote it, then moved on, leaving it to sit on my hard drive for several years. See below for the blurb and link to an excerpt.
I do love the story and the characters and as I had time, I rewrote it, using the writing tools I'd learned from my editors along the way. I'm very pleased with this story and I hope the readers will feel the same.
4.) Where do get inspirations to create your characters?
Easily, everywhere. A character in a movie or a story I hear or read about will spark an idea for a certain character. In the case of Lucien Damrill in Serenity's Dream, I used my love of Clark Gable to fashion Lucien's demeanor and personality. In Lord Decadent's Obsession, Tyrone Power became the inspiration for Prentice Hyde.
While Gone with the Wind was on my mind, I chose Vivian Leigh as my Serenity, for her feistiness and her sass.
5.) Which kind of background research do you do?
I read, a lot. I write historicals because I love them for the historical quality, not as costume drama. I have many period sites I consult for different facts about the period, dress, customs, food, weather and anything else you might think about.

6.) Which are your favourite authors in the Victorian/ Regency genre?
I love Lisa Kleypas and Mary Balogh with a passion. They have written two of the most memorable characters in my reading. Lisa wrote Westcliff, from It Happened One Autumn, and exquisite alpha male. Mary wrote Sydnam Butler in Simply Love. Sydnam is physically damaged from his war service and has relegated himself to a solitary life. Wonderful character.
For male/male, I love Ava March. She captures the period I love so much.



7.) Mr Wickham or Mr Darcy?
Mr. Darcy, of course.
8.) When do you like to write?
I write from morning to late afternoon, dinnertime usually. My family has an odd schedule, most times my husband and daughter go to bed about the time I get up, so it's very quiet and gives me long hours to research and/or write.
My husband cooks dinner and we sit down to watch our favorite TV shows about 5 and we all spend the evening together.
9.) Which book are you reading now?
I'm reading a new to me author, Tamara Allen, her book The Only Gold. How I've not discovered Ms. Allen, I don't know, but I'm stocking up on her work.
I'm also reading tons of Anne Brooke's work. Just love her as well.
In between, I'm reading tons of research books on old Hollywood.

10.) What are you writing about right now and when can we expect the next book release?
Right now, I'm working on an old manuscript, rewriting the story and beefing up characters. It has a terrible working title and, so far, no acceptable title in sight. So goes the glorious world of writing. It's a het Regency, with a story that has several twists and turns. I have no publisher for this one yet, but I'll submit it when it it's ready.
I've submitted an historical, For Men Like Us, and at this writing, I'm waiting to hear if it's been accepted for publication.
I'm also working on a story set in old Hollywood. I'm very excited about it. The research alone has been so much fun, though the story will be a rather serious one. It will trace the life of a young gay actor over the course of twenty to twenty-five years, at a time when being gay in Hollywood was, shall we say, frowned upon.
I've also been asked by Damon Suede to contribute to the Goodreads M/M Romance Group's Gaytime Drama, Boxer Falls. I'm very excited to be a part of it, and I think my episode will be out in March.

I stay busy and I'm sure there will be tons of other things going this year.





My new release, Demands of the Heart, is a het Regency romance. Here's the blurb:

In 1807, idealistic Richard Fanshaw and Victoria Bramhill are consumed with each other, their young love blooming amidst a series of carefree soirees and stolen moments.

But jealousy and greed turn what they have into something ugly and twisted. They're wrenched apart amid vile lies and deceit when Victoria's freedom is bought to pay her father's debts.

Six years later, Victoria is widowed and a cynical Richard has just returned to England after years in India. Having been given the impression that Victoria's marriage was a happy one, a chance meeting renews Richard's anger over Victoria's betrayal and sets in motion a plan for revenge.
One must answer the demands of the heart.

If you like to read an excerpt and purchase Demands of the Heart...
(Release date: the 20th of February)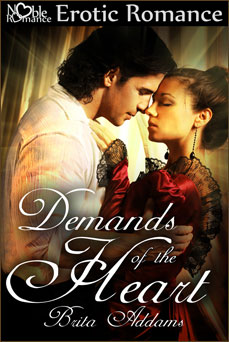 Find out more about Brita Addams!

I love visitors to my website.
Please stop by and say hello.

Website and Blog
http://www.britaaddams.com/

Goodreads Page
http://www.goodreads.com/
author/show/4093476.Brita_Addams

Facebook
http://www.facebook.com/britaaddams

Email address: britaaddams@gmail.com
Twitter: @britaaddams



Would you like to read about other authors featured at My Secret Quill?

Heather Boyd
Dorian Mayfair